Introduction
In order to create a marketing strategy for your perfume business, you must first understand the power of scent. The scent is one of the most primal senses and can trigger a wide range of emotions. By harnessing the power of scent, you can create a marketing strategy that will make your perfume business thrive.
What is the significance of a perfume marketing strategy?
You must market your fragrance so that you can recoup your production costs while also making a profit. You should be aware that the higher the yield, the higher the sales. An increase in demand for your product is a positive trend that can only be achieved through effective marketing.
Who is the most likely to use perfume?
Women in the United States are more likely than men to use perfume. According to the Statista study, 15% of men never use fragrances (perfume and eau de toilette), compared to 8% of women. Furthermore, 41% of women in the United States use perfume on a daily basis, compared to 39% of men.
What industry makes the most use of perfume?
In a highly competitive market, the cosmetic and personal care industries are major F&F end-users, manipulating flavors and fragrances to improve the sensory appeal and product value for consumers.
In this post, we will discuss why a marketing strategy is important in the perfume industry, how to plan and execute a marketing strategy, and the top eight suggestions if you are new to the perfume industry.

What is the perfume industry's marketing strategy, and why is it important?
This perfume marketing strategy is intended to draw attention to your product. To market a fragrance effectively, you must appeal to human psychology. Connect your brand to an exotic and appealing abstract concept. Passion, masculinity, femininity, strength, and love are all examples of conceptual ideas. It also explains why perfume advertisements are erotic.
Why?
The importance of marketing cannot be overstated when it comes to products. The world has evolved to the point where businesses must compete to carve out a niche for themselves. There are numerous perfumes available. If you don't actively promote it, it may fade into obscurity.
Strategic marketing will enable you to implant a thought about your product in the minds of your customers. What people see and hear naturally moves them. Marketing allows you to deliver the right message to the right person. What distinguishes your perfume from others on the market? Who is your intended audience? How will it affect people? Your marketing strategy will provide answers to all of these questions.
Marketing has also been shown to increase the sales of any product. You must market your fragrance so that you can recoup your production costs while also making a profit. You should be aware that the higher the yield, the higher the sales. An increase in demand for your product is a positive trend that can only be achieved through effective marketing.

How to Develop a Marketing Strategy for Your Perfume Company?
Create Your Website:
Developing a consistent brand identity is critical for ensuring that people remember your perfume. Your website design should be consistent with your brand's colors, fonts, and style. Maintain consistency with your branding and tailor your copy to your target customer.
Your website should have at least four pages: your homepage, an About page that tells your story to clients, a Products page, and a Contact page.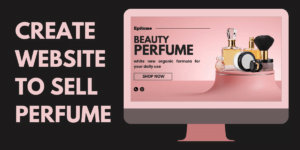 On the products page, you should have a link to your online store. You can call it "products," "store," or anything else that fits your brand. It should be simple to use and optimized for mobile devices. Some of your customers will purchase directly from their phones, so make sure your online store is mobile-responsive and set up to accept payments from a variety of sources.

Customer Engagement and Relationship Building: 
Using social media is a popular way to engage customers and generate excitement about your perfume. Maintain consistency in your social media messaging. Your posts should humanize your brand while also appealing to your target audience.
Personalize your messaging. Conduct a search to identify keywords, phrases, and hashtags that are relevant to your target customer. These can be tracked using Google Analytics and other analytical tools, as well as by looking at the social pages of your competitors to see which posts are the most popular. When you've identified key terms, use high-quality images to make your posts stand out. Pay close attention to the composition of each photo in order to create visual appeal. ‌
Encourage customers to leave reviews on your website and to share your products on social media using the hashtags your company and the fragrance's name. You can also reach your target audience by collaborating with social media micro-influencers. These influencers have fewer followers than regular influencers and may be more willing to promote your products for free. Customers generally regard micro-influencers as more credible.

Make a Blog:
The beauty influencer boomed in the 2010s. Emily Weiss, the founder of Glossier, was an early influencer who leveraged her successful blog. A 2019 CNBC article titled "How Emily Weiss took Glossier from beauty blog to $1 billion brand" discusses Weiss' journey from beauty blogger to makeup mogul.
A blog can help you connect with your customers and introduce new fragrances. One advantage of purchasing perfume in person is that you can test it to see how it smells on you. Using a blog to celebrate various fragrances allows you to describe the scents in greater detail. Customers can be drawn in by using vivid, descriptive language related to the key notes of each fragrance.

Next Marketing Strategy is Sell Your Perfume:
Using online tools to promote your perfume strategically makes it easier for customers to find you. These strategies will assist you in increasing awareness and driving traffic to your website.

Personalized Advertisements:
Running sponsored posts is a good way to stay at the top of social media feeds in crowded industries such as beauty. Because you can set your desired budget based on the number of clicks, social media ads on platforms such as Instagram are cost-effective.
Instagram allows you to create promoted posts with either video or still images. Consider a sponsored post to be similar to a magazine ad, and apply the same composition and layout principles. Use vivid images to demonstrate how the perfume smells or to evoke specific emotions in the viewer. Make engaging content that appeals to your target audience.

Videos:
Entertaining videos can help your brand gain an audience. If you have a YouTube or Vimeo account, you can start a channel informing people about various perfume trends and topics, or you can take them on a behind-the-scenes tour of how to create a scent.
You can also embed these videos on your website so that they play when a customer visits your online store.

Contests on Social Media:
Run a contest with branded hashtags and give away a free bottle of perfume to the winners. Encourage your followers to share your brand on social media. You can choose a winner at random from those who use your hashtag in their posts, or you can have your followers get creative with your product. Add additional hashtags, such as #perfumegiveaway, to increase visibility.

Place Advertisements on a Blog:
Investigate popular beauty bloggers to see which sites provide ad space. Inquire about their advertising rates and choose those that are popular with your target audience. This is not the same as asking an influencer to post a review of your product on their social media feed. It looks more like a traditional magazine advertisement.

Make Use of Shoppable Posts:
People can shop directly from a pin or a post on social media platforms like Instagram and Pinterest. Choose your best marketing images and turn them into shoppable Pinterest pins. Customers can find your posts organically via the site's algorithms, as well as by clicking on the pin.

Congratulations on your launch!
You can generate interest in your launch by including a countdown feature in your social media feed. Create a variety of content ranging from teasers to full details about your new perfume and run it for a limited time leading up to its release.

Latest Marketing strategy for this domain is Start a Tik Tok competition.
TikTok is a relative newcomer in social media marketing, but it is popular with users of all ages. Run a contest on TikTok and other social media platforms in which users can enter to win free perfume. Choose a theme that reflects your brand identity, such as returning to nature or self-care, and make sure people tag your brand as part of their entry.

Run an OTT Advertisement
Over-the-top (OTT) advertising refers to advertisements that appear alongside streaming video services. Create a 15- to 30-second commercial and choose an OTT platform to run it on, such as YouTube, Hulu, or another streaming platform. These ads are less expensive than traditional TV ads and can be targeted to audiences who are likely to purchase your perfume.

Sell via a Third Party:
Selling through a third-party site such as Etsy is another way to raise awareness of your new perfume. These sites have their own brand awareness, and you get a captive audience of people who will find you easier than a traditional search engine. Because Etsy customers understand that the site is home to small artisans, it is a good marketing channel if you don't keep a large inventory on hand.

Set up a Customer Loyalty Program.
Start a customer loyalty program if you sell more than one fragrance or additional products. Give existing customers a reason to buy from you more frequently by offering a discount that can only be obtained by spending more money. Choose an ecommerce platform that either has a client relationship management feature or works with other loyalty programs when building your site.
Improve your digital marketing strategy right now!
A well-coordinated digital marketing strategy makes it easier to stand out in the beauty industry. Using the tools mentioned above, define your target customer and create a presence that appeals to their lifestyle. Create a buzz around your perfume by being creative with your digital marketing and watch your sales grow.
You may be interested for another domain marketing strategy:
Marketing Strategy for Event Management Company
The Best Marketing Strategies for Fashion Brands
Marketing Strategy For A Restaurant